Serving the Tri-State Area Since 2011
When it comes to IT, you need a solution that just works so you can focus on your core business.  All of our managed service offerings can be tailored to meet your organization's unique IT needs.
Focus on Your Business & Leave the Rest to Us
Running a business is no easy task, and you need a network that can keep up. With managed IT services, you and your team can focus on your business and leave your IT in the hands of trusted experts. Our experienced team is here for you, from installation to troubleshooting. With over 50+ years of combined IT experience, we've got you covered.
All of our managed service offerings can be tailored to meet your organization's unique IT needs.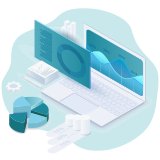 We'll Keep an Eye Out for Trouble
We pride ourselves on our proactive approach to IT. To keep things running smoothly and address issues before they become problems, our dedicated RF Engineer will perform weekly network checks.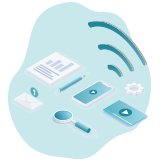 You're Always Kept in the Loop
Your network is the backbone of your organization, so it's vital that you are kept in the loop. As soon as an alarm is triggered, our team will get to work, resolving your network issues before they impact your end-users. You are always kept informed about what is going on and the steps we are taking to rectify the situation.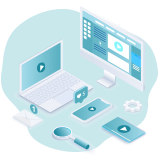 We'll Keep You Up to Date
Firmware upgrades and updates ensure device compatibility and allow you to take advantage of handy new features. Our team will automatically install firmware upgrades and updates for you so you can get the most out of your network.
We're Here for You Every Step of the Way
Not everyone is an IT expert, which is okay. That is why our friendly team of experts is here for you every step of the way to offer support and troubleshooting and answer any questions your team may have.
Our Proven 3-Step Process
Custom Troubleshooting Guides & Expert Support
To help reduce delays and disruptions, our team of engineers can create a custom troubleshooting guide for your network. This helps your workers troubleshoot minor issues on their own, resolving problems quickly so users can get back online. 
Should you encounter a more difficult problem, our team is here to help you troubleshoot the issue and solve the underlying problem, so it doesn't happen again.
Remote Managed Services & On-site Support
Our managed IT services include a wide range of remote managed services. We also provide on-site support, which is billed as needed. As part of our wide range of service offerings, we can also perform network changes as requested, including SSIDs, VLANs, security settings, power control, channelization, and more.
No Nasty Surprises
We pride ourselves on our transparent pricing model, so you are never left with a nasty surprise when the bill comes. Our All-in-One pricing model includes unlimited truck rolls per year, so expert on-site support is only ever a call or email away.
Serving the Tri-State Area Since 2011!
Working With Businesses & Organizations of All Types & Sizes
"When you are facing a need for wireless, to meet a critical business need for your organization's network, Wi-Fi Integrators knows exactly what to do! We have many diverse needs at our sites, and they always come through for us to quickly address everything that we need. Their engineering is detailed and thorough. They are personable, reliable and provide the best in class service. When we are faced with network needs, they are my "go to" for assistance. I highly recommend them!"
Roger Hall
Caesar Rodney School District
"Years ago Viking Yacht Company started a business relationship with Andy and Bob. I remember the day that I first met them, their personal and business presence impressed me above and beyond. They knew exactly what we needed and took care of us from the beginning with excellent service and solutions that have for years helped us go forward. WIFI interrogators has been a company that I will always use as I have dealt with many a vendor and they have nailed the concept of a company that cares and brings that to the table for all our needs. Many times I have reached out to them for questions and help and have always gotten quick and correct resolution whenever needed, this comes from the uniqueness of who they are."
Vincent Pecoreno
Senior Network Administrator
Viking Yacht Company
"Ocean View Resort campground is an 1175 site upscale camping resort carved from natural forest on 180 acres located in Cape May County, New Jersey. Wifi Integrators has been actively involved since 2013 in the planning, installation, expansion and upgrading of our wireless network. From the first day when Bob Carmody arrived for a consultation and immediately went to work mapping the environment we knew this was our company. Wifi Integrators have remained responsive to our needs and irreplaceable when it came to our challenges. I'm happy to recommend Wifi Integrators and I thank Wifi Integrators for all the assistance over the years."
Ryan Ramirez
Manager
Ocean View Resort Campground
When You Need a Team You Can Depend On, You Can Trust the WiFi Integrators


Let's work together.