Serving the Tri-State Area Since 2011
Whether you need a full IT or infrastructure as a service solution or a more targeted solution, our team of experts will work with you to identify your needs and create a custom solution to meet them
Get the Most Out of the Cloud
The cloud is an incredible tool, connecting users around the world and promoting collaboration and communication. Whether you are looking for an all-in-one solution such as ITaaS (IT as a Service) or IaaS (Infrastructure as a service) or a particular product such as SD-WAN or SIP Trucks, our team is here to help. 
We will sit down with you, discuss your needs, and create a tailored, affordable solution to support those needs and empower your team.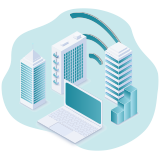 IT & Infrastructure as a Service
Our ITaaS and IaaS solutions can be set up and deployed quickly, so you and your team can hit the ground running.
Read More
ITaaS is an all in one technology-delivery approach to IT that will provide your enterprise-level organization with the hardware, software, and support you need to thrive. We promise to never sell you more than you need and never cut corners. In addition to support from our experienced engineers, this solution requires minimal upfront costs and a predictable expenses model.
Our IaaS solutions can provide you and your team with instant computing infrastructure, which can be provisioned and managed over the internet and tailored to suit your needs.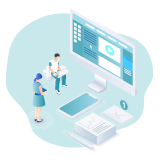 Communication Supports Collaboration
Success depends on collaboration, but your team can only collaborate effectively if they can communicate easily. Cloud-hos4ed communication solutions can help you reduce costs, improve uptime, and boost productivity, all of which contribute to a competitive advantage. To best support you and your business, we offer a wide range of communication options.
Read More
UCaaS

(Unified Communication as a Service), an all-in-one solution offering voice and data circuits (including SDI and PRI, which rely on copper cables) as well as Coax, Fiber over Coax, and Fiber up to 10 Gigabytes and hosted voice.
SIP (Session Initiation Protocol) Trunks

. SIP Trunks are cost-effective virtual phone lines that allow you and your team to make and receive phone calls over the internet using a phone number, eliminating costly long-distance phone calls.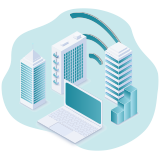 Keep All Your Branches Connected with SD-WAN
SD-WAN (Software-Defined Wide Area Networking) is a transformative technology that allows for intelligent branch office networking. SD-WAN is an affordable and efficient way to link your various offices together, offering a centrally-managed solution with full network visibility.
Custom Solutions & Ongoing Support
As with all our products and service offerings, we aren't happy unless you are happy. We pride ourselves on creating custom solutions that are tailored to meet your needs. Every business is different, so you need much more than one-size-fits-all solutions to support your team and your customers.
Discuss & Define Your Needs
Before we begin, our experienced team will sit down with you and determine your exact needs. We will listen to your concerns and review your current solution so we can identify any problems or issues that need to be addressed and figure out what exactly isn't working. 
We will also contextualize your communication needs within your business so we can create a solution that best supports your team.
Create & Implement Your Custom Solution
Once we have determined your precise needs, we can begin creating a custom communication solution to meet them. We understand your company is relying on our solution to stay in touch with clients and one another, collaborate, and keep your business running smoothly; We don't take that responsibility lightly. 
Once your custom solution has been deployed, we will help you and your staff get up to speed and answer any questions you may have about your new system.
Ongoing Support & Troubleshooting
Even a seemingly minor issue can cause major disruptions, which is why our friendly team of experts is only ever a phone call or an email away. We offer ongoing support and troubleshooting and can create custom troubleshooting guides to empower your team to address minor issues on their own, minimizing disruptions.
Serving the Tri-State Area Since 2011!
Working With Businesses & Organizations of All Types & Sizes
"When you are facing a need for wireless, to meet a critical business need for your organization's network, Wi-Fi Integrators knows exactly what to do! We have many diverse needs at our sites, and they always come through for us to quickly address everything that we need. Their engineering is detailed and thorough. They are personable, reliable and provide the best in class service. When we are faced with network needs, they are my "go to" for assistance. I highly recommend them!"
Roger Hall
Caesar Rodney School District
"Years ago Viking Yacht Company started a business relationship with Andy and Bob. I remember the day that I first met them, their personal and business presence impressed me above and beyond. They knew exactly what we needed and took care of us from the beginning with excellent service and solutions that have for years helped us go forward. WIFI interrogators has been a company that I will always use as I have dealt with many a vendor and they have nailed the concept of a company that cares and brings that to the table for all our needs. Many times I have reached out to them for questions and help and have always gotten quick and correct resolution whenever needed, this comes from the uniqueness of who they are."
Vincent Pecoreno
Senior Network Administrator
Viking Yacht Company
"Ocean View Resort campground is an 1175 site upscale camping resort carved from natural forest on 180 acres located in Cape May County, New Jersey. Wifi Integrators has been actively involved since 2013 in the planning, installation, expansion and upgrading of our wireless network. From the first day when Bob Carmody arrived for a consultation and immediately went to work mapping the environment we knew this was our company. Wifi Integrators have remained responsive to our needs and irreplaceable when it came to our challenges. I'm happy to recommend Wifi Integrators and I thank Wifi Integrators for all the assistance over the years."
Ryan Ramirez
Manager
Ocean View Resort Campground
When You Need a Team You Can Depend On, You Can Trust the WiFi Integrators


Let's work together.