Serving the Tri-State Area Since 2011
National Rollout Services
With a skilled team of WiFi professionals coast to coast, we are able to deploy networks nationally across thousands of sites and locations. Imagine: a single contact for your national network.
Covering all of the United States & Canada
We are fortunate to have a capable team of WiFi professionals coast to coast in both the United States and Canada. This national reach allows us to facilitate significant technology rollouts, from new networks to self-service kiosks. We simplify managing technology across state or national lines by centralizing your technology management.
WiFi Specialists
With a name like WiFi Integrators for Innovation, it's fair to assume that we've got the WiFi credentials needed to do a great job.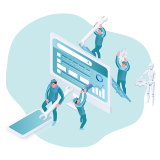 Technology Experts
Sure, we're WiFi Specialists, but we're not limited to "just" WiFi. Our expertise extends to video conferencing, low voltage cabling, hardware refreshes, LCD/plasma installs, and more.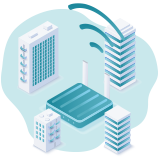 End-to-End Project Management
Thanks to our national team, we are able to act as the single point of contact across your entire national rollout strategy. End to end, coast to coast… we've got you!
Finding the right partner to support your technology often feels like finding a needle in a haystack. We get it – having spent the better part of a decade building our team, we appreciate first-hand the importance of finding the right fit.
Eliminate Regional Contractors
Not only is working with multiple technology firms expensive, but it requires additional project management and introduces unnecessary complexity. By owning the process end to end, we are able to leverage efficiencies that ensure our team is professional and productive.
Business Technology Expertise
Including (but not limited to):
Hardware refreshes (Printer /Tablet/POS/Desktop/Laptop)
Self-service kiosks
LCD/Plasma installs
Digital and menu board displays
Video conference solutions
Low voltage cabling
Inventories and site surveys
Software migrations
Cohesive Strategies
By keeping everything under one roof, we make it easier for our teams to stay aligned. This reduces human error and allows us to provide consistency in our process.
Serving the Tri-State Area Since 2011!
Working With Businesses & Organizations of All Types & Sizes
"When you are facing a need for wireless, to meet a critical business need for your organization's network, Wi-Fi Integrators knows exactly what to do! We have many diverse needs at our sites, and they always come through for us to quickly address everything that we need. Their engineering is detailed and thorough. They are personable, reliable and provide the best in class service. When we are faced with network needs, they are my "go to" for assistance. I highly recommend them!"
Roger Hall
Caesar Rodney School District
When You Need a Team You Can Depend On, You Can Trust the WiFi Integrators


Let's work together.