Serving the Tri-State Area Since 2011
Other IT & Networking Services
We work with organizations in a number of ways to support their technology needs. Learn more about how our team can support yours.
 Technology Services Designed for Today's Business Environment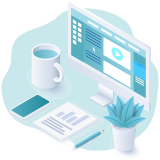 White Label Experts
We are well-regarded in the industry for our ability to service our partners clients WiFi needs. Our team subcontracts for dozens of companies that trust our expertise and experience.
Learn More
We offer white label services in the following areas: 
Onsite WiFi Design Surveys 
Predictive Surveys 
Onsite & drop ship equipment configuration 
Installation services 
Low Voltage Cabling 
Post installation Validation Surveys 
Network Inventory Surveys 
More… 
If you are a company who has been turning away WiFi business, contact us, we will even wear your company shirt when servicing your clients.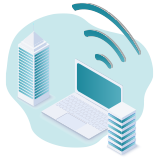 Point-to-Point
Our roots began with point-to-point and point-to-multipoint wireless links; to date, we have deployed hundreds of line of sight links. Point to point is a great alternative to trenching fiber.
Learn More
Some optimal uses for PTP links include: 
Video Surveillance backhaul 
Events Connectivity 
Rural Connectivity 
Education 
Hospitality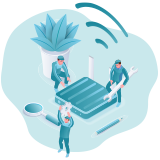 Low-Voltage Cabling
Most WiFi networks are not yet 100% wireless, relying on ethernet cabling to act as the backbone connection to the access point. Our team can run, terminate, and certify network cabling.
Learn More
Weather its installing cable to support our WiFi network, or you need an entire office or building wired for voice, video and data, our expert installers can help.  
Voice, Data and Video 
UTP/STP Cat 5E, Cat 6, Cat 6a 
Fiber Optic – Single and Multimode 
Broadband 
Data Center, Comm Rooms 
Central Office Installation 
Testing and Certification 
Serving the Tri-State Area Since 2011!
Working With Businesses & Organizations of All Types & Sizes
"When you are facing a need for wireless, to meet a critical business need for your organization's network, Wi-Fi Integrators knows exactly what to do! We have many diverse needs at our sites, and they always come through for us to quickly address everything that we need. Their engineering is detailed and thorough. They are personable, reliable and provide the best in class service. When we are faced with network needs, they are my "go to" for assistance. I highly recommend them!"
Roger Hall
Caesar Rodney School District
When You Need a Team You Can Depend On, You Can Trust the WiFi Integrators


Let's work together.