Serving the Tri-State Area Since 2011
Temporary & Rental WiFi Networks
From private parties to large outdoor public events, we will provide you a fast and reliable temporary WiFi network for up to 1,000 users.
A Temp WiFi Network Can Be On-Site & Deployed in as Little as an Hour
We're no strangers to working around other parties, engineers, and tradespeople. When concert stages are going up or conference centers are being built, the need for speed is high. Our team leverages our considerable expertise in indoor and outdoor event WiFi network design to quickly deploy a fast network that works.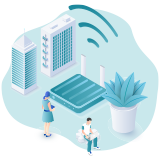 In or Out (Doors That Is)
From bustling conference centers to outdoor amphitheaters, we can connect you users anywhere.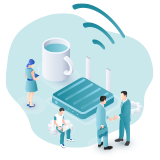 Up to 1,000 Users
We take advantage of the latest WiFi technologies to ensure great experiences for every connected device.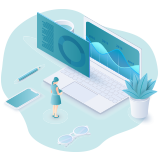 Personalize the Details
In addition to custom SSID's for attendees, we can polish up the nice touches, such as login splash screens.
Connected Before You Know It
With hundreds of temporary WiFi networks deployed to date, our team will make quick work of yours. We've had nearly a decade to refine our approach:
Our Proven 3-Step Process
Needs Assessment
The first step is always taking the time to understand your needs, including the event location, how it will be laid out, the expected number of attendees, and so on.
Network & Technology Recommendation
We provide our recommendation, which includes the technology we'll be using, details surrounding access points, network deployment/management, set up, and take-down. 
Network Deployment
Once on-site, we quickly deploy your temporary WiFi network and validate signal strength and connectivity throughout the premises. We also verify that your team is able to connect and manage the network as determined during the needs analysis.
Serving the Tri-State Area Since 2011!
Working With Businesses & Organizations of All Types & Sizes
"When you are facing a need for wireless, to meet a critical business need for your organization's network, Wi-Fi Integrators knows exactly what to do! We have many diverse needs at our sites, and they always come through for us to quickly address everything that we need. Their engineering is detailed and thorough. They are personable, reliable and provide the best in class service. When we are faced with network needs, they are my "go to" for assistance. I highly recommend them!"
Roger Hall
Caesar Rodney School District
"Years ago Viking Yacht Company started a business relationship with Andy and Bob. I remember the day that I first met them, their personal and business presence impressed me above and beyond. They knew exactly what we needed and took care of us from the beginning with excellent service and solutions that have for years helped us go forward. WIFI interrogators has been a company that I will always use as I have dealt with many a vendor and they have nailed the concept of a company that cares and brings that to the table for all our needs. Many times I have reached out to them for questions and help and have always gotten quick and correct resolution whenever needed, this comes from the uniqueness of who they are."
Vincent Pecoreno
Senior Network Administrator
Viking Yacht Company
"Ocean View Resort campground is an 1175 site upscale camping resort carved from natural forest on 180 acres located in Cape May County, New Jersey. Wifi Integrators has been actively involved since 2013 in the planning, installation, expansion and upgrading of our wireless network. From the first day when Bob Carmody arrived for a consultation and immediately went to work mapping the environment we knew this was our company. Wifi Integrators have remained responsive to our needs and irreplaceable when it came to our challenges. I'm happy to recommend Wifi Integrators and I thank Wifi Integrators for all the assistance over the years."
Ryan Ramirez
Manager
Ocean View Resort Campground
When You Need a Team You Can Depend On, You Can Trust the WiFi Integrators


Let's work together.