WiFi Integrators for
Innovation Case Study
Welcome to
Ocean View
Resort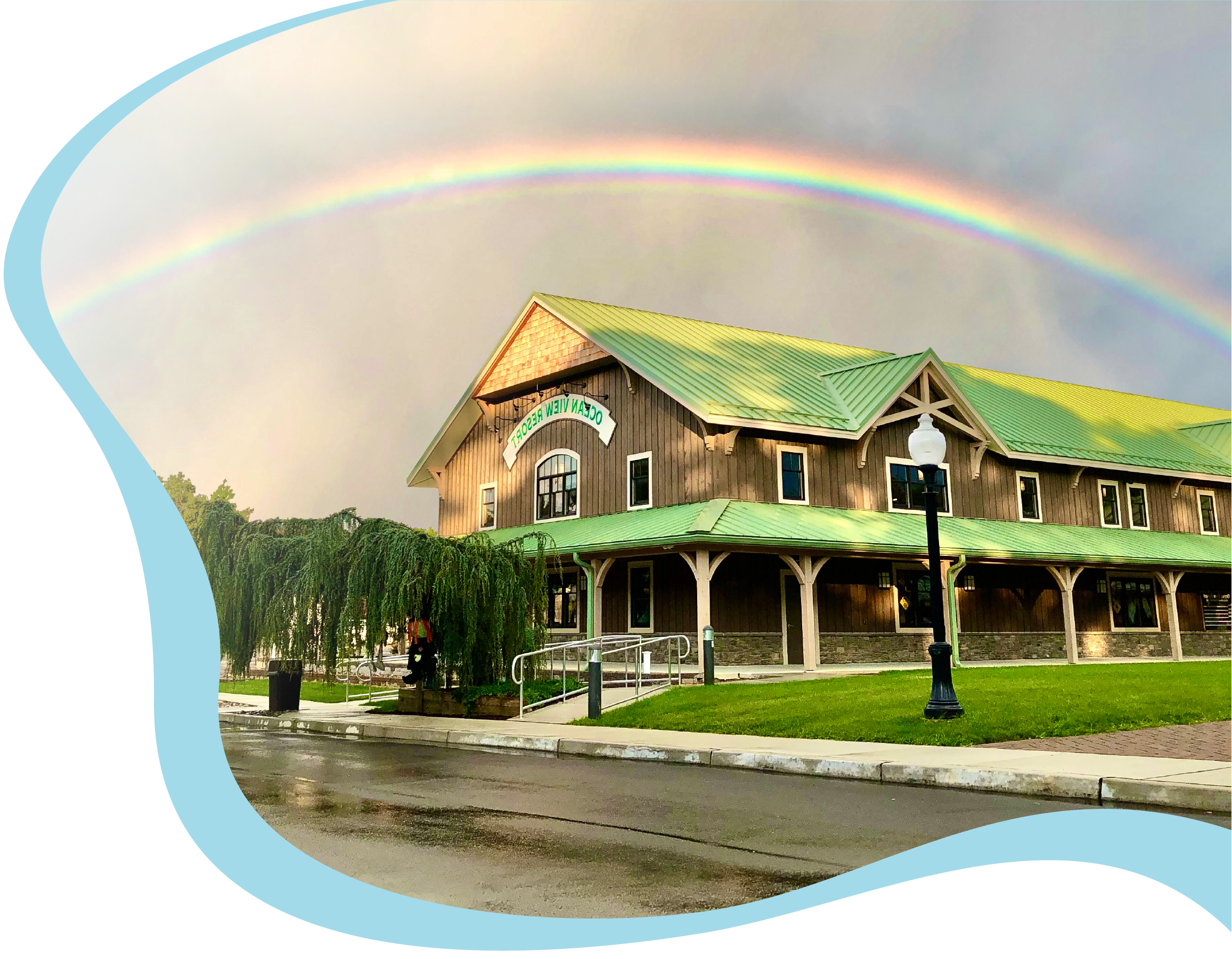 By Bob Carmody
Ocean View Resort Campground is an 1175 site upscale camping resort in Cape May County, New Jersey. Carved from natural forest, this 180-acre resort is one of the largest camping and RVing resorts on the east coast.
In order to stay competitive and keep their customers happy, Ocean View Resort needed to bring their business into the 21st century with cutting-edge WiFi performance. The sheer size of the resort, coupled with the dense forest, made this task extremely difficult, which is why they turned to the experts at WiFi Integrators for Innovation to help.
In 2013, the Ocean View Resort partnered with us to plan, install, expand, and upgrade their wireless network to offer fast, reliable WiFi throughout the entire resort. Ryan Ramirez, the IT director and a member of the family who owns the resort, saw the big picture and was willing to devote the proper time and resources to do it right. As a result, Ocean View Resort now has an extremely agile network that offers full coverage of the entire resort.
From the first day when Bob Carmody arrived for a consultation and immediately went to work mapping the environment, we knew this was our company. WiFi Integrators have remained responsive to our needs and irreplaceable when it came to our challenges. I'm happy to recommend WiFi Integrators, and I thank WiFi Integrators for all the assistance over the years.
~ Ryan Ramirez, Ocean View Resort IT Director
The Unique Challenges Posed by this Project
The Ocean View Resort posed many unique challenges, particularly line of sight challenges caused by the densely packed trees. The large number of trees, including a wide variety of species at various stages of growth, made it difficult to run enough powerlines and install enough transformers to ensure full coverage for the expansive campground. Evergreen trees, such as cedars, also caused signal quality to degrade significantly. Frequent elevation changes also made it difficult to ensure adequate and widespread WiFi coverage.
Supporting Thousands of Users
There were also a number of challenges on the networking side of this project, including dealing with latency and bandwidth hogs and the fact that a few thousand users could be on the network at any given time. As time went on, backhauling became a challenge. Where meshing was once an option for outdoor coverage, it no longer was a good option for capacity and penetration. To solve this, Ocean View Resort installed a 1-gigabyte fiber backhaul to help bring the network to its full potential.
Signal Penetration Challenges
Aside from the environmental challenges, the RVs themselves also had to be taken into account since their metal walls make it difficult for WiFi to penetrate; however, since many users rely on WiFi to power their smart TVs and for video conferencing, the signal needed to be strong enough to ensure users inside RVs could still enjoy strong reliable WiFi. The campground also hosts a number of semi-permeant trailers made using a combination of vinyl siding and fiberglass. Those materials, coupled with the glass in the windows, can also affect WiFi signals and needed to be taken into account as well.
Addressing These Challenges
Early on in the project, we addressed these challenges using specialized sectoring antennas. While many antennas are omnidirectional, we instead opted for antennas that offered 120-degree coverage, allowing us to concentrate the signal, extending its range 60% to 70% further than omnidirectional antennas could. We compensated for the narrower coverage area by mounting three antennas on each pole, giving us 360-degree coverage.
This approach gave us 360-degree coverage that reached further than a single antenna on its own could. It also helped limit the amount of fiber we needed to lay by reducing the number of power pole required to support the network, reducing costs. Limiting the amount of fiber and power pole required without compromising coverage or signal strength allowed us to provide adequate coverage while also preserving the natural beauty of the resort.
How WiFi Integrators for Innovation Beat the Competition
After [doing some] basic web research, I narrowed my choices down to Ruckus and Motorola Wireless. Bob [Carmody, Founding Partner at WiFi Integrators for Innovation], accompanied Motorola Wireless and impressed me with his inquiries and inclination to essentially begin to work immediately by mapping our environment with a portable apparatus he wheeled around. I was leaning towards Motorola due to my initial impression of how Bob worked, but the Ruckus guy was just a better salesman. When he told me he could get Bob, I wanted Ruckus and WiFi Integrators, and the decision was easy.
~ Ryan Ramirez, Ocean View Resort IT Director
The success of this project hinged on a variety of factors. We were able to provide realistic numbers to support a realistic solution that didn't sacrifice coverage or cut corners. We started by sitting down with the Ocean View Resort team and determining where exactly customers would be accessing WiFi. Ensuring adequate coverage down by the beach was relatively straightforward, but ensuring adequate coverage in the densely forested areas and inside the trailers was more difficult. To gather the data we needed, we began by mapping the entire campground. This allowed us to tailor our approach to address the different challenges posed by different areas of the campground.
Addressing Coverage & Capacity Challenges
By and large, the dense forest posed the biggest challenge. While meshing was able to provide decent coverage in most wooded areas, there were still some forested areas where only a spotty connection was available using this method.
Aside from coverage, capacity also posed a challenge. With thousands of users potentially accessing the network at any one time, Ocean View needed a network that was both far reaching and had the capacity to provide a good WiFi connection to all users. To address this, we turned to fiber for the majority of the network, though some areas rely on a mesh configuration. We also chose fiber over copper because it is better suited to large areas.
Additional Infrastructure
To bring WiFi to the entire resort, we needed to add additional power polls, increasing costs. The Ocean View team was on board with the additional expenses since it was the only way to fully support their vision, and their team has been incredibly helpful and responsive at every stage of this project. To help speed things along, the Ocean View team installed the additional power poles and then lent us their bucket truck so we could install the WiFi equipment.
The Ocean View Resort Stays Ahead of the Curve
The Ocean View team's willingness to invest in their future and stay ahead of the curve when it comes to offering WiFi to campers was critical for the success of this project, and this ongoing project continues to evolve. While the focus in 2013 was on coverage, we are now shifting our focus to better address capacity as COVID has increased demand for camping, leaving the resort busier than ever. Additional users bring with them additional bandwidth requirements, and a good network needs to have both the coverage and capacity to support all users in all areas the network covers.
Though we rely on WiFi for so much of what we do, a campground with cutting edge WiFi is still very rare, putting Ocean View ahead of the pack.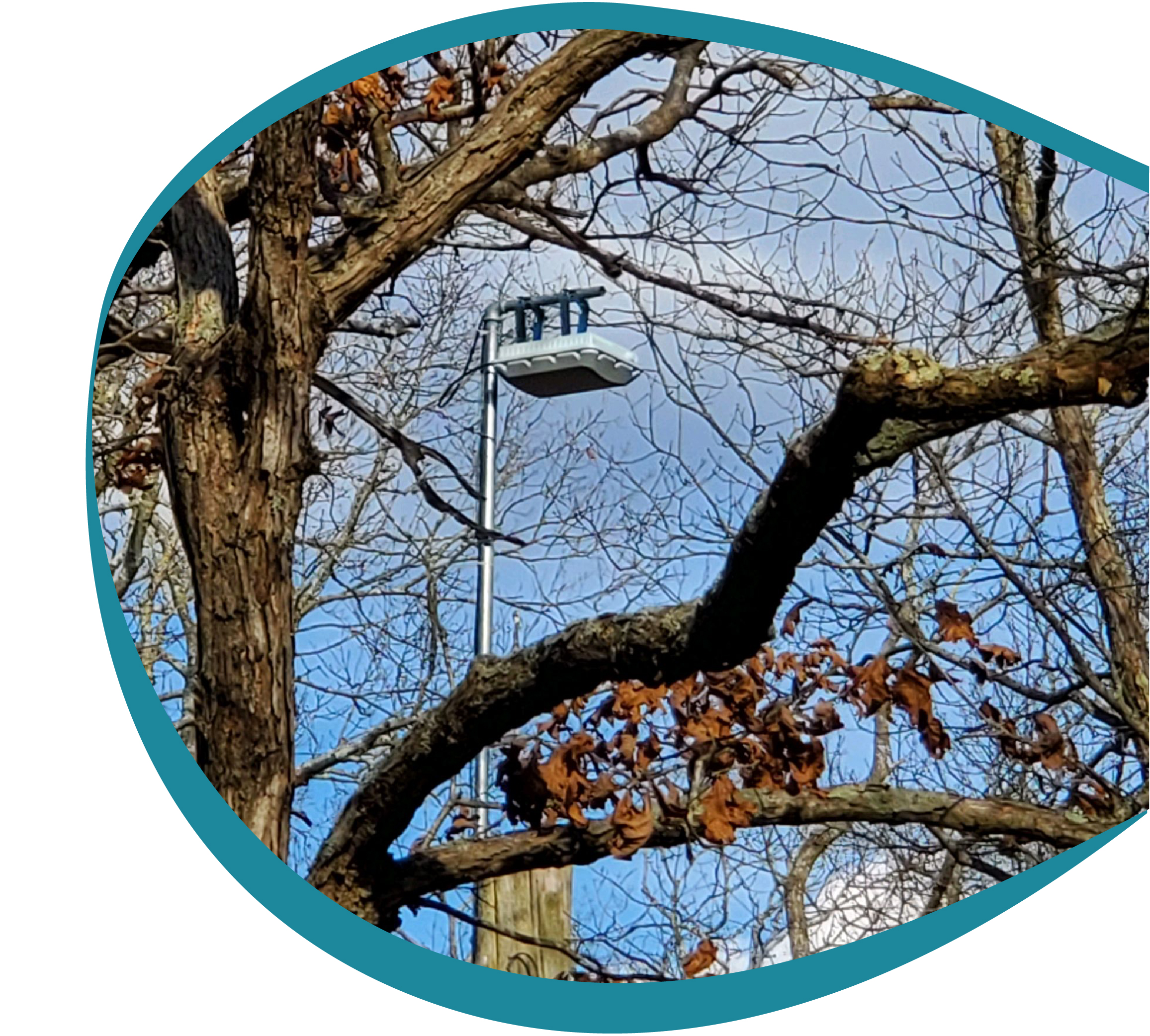 [Overcoming these challenges] was a team effort. Most of our solution boiled down to ap density to address signal strength, and after using a copper backhaul for years, we installed fiber, enterprise-class switches, and an enterprise-class gateway to create high-speed lanes for the traffic. Interference was a bit of a guessing game, but at times the RF plan would be modified in the hopes of improving interference.
~ Ryan Ramirez, Ocean View Resort IT Director
Though the Ocean View Resort posed many unique challenges, we were able to overcome them. By working together with their team, we were able to create a WiFi solution that reaches every corner of the campground and is able to support the large number of users accessing the network. This solution relied on a unique approach that was tailored to meet the unique challenges and landscape of the coverage area.
[Working with] WiFi integrators has been great. Despite busy schedules, Bob and I have been able to stay in touch even when there isn't a fire to put out!
~ Ryan Ramirez, Ocean View Resort IT Director